Basava Jayanthi 2021
23 May 2021 10:30 am
Wynnum Municipal Hall 219, Bay Terrace, Wynnum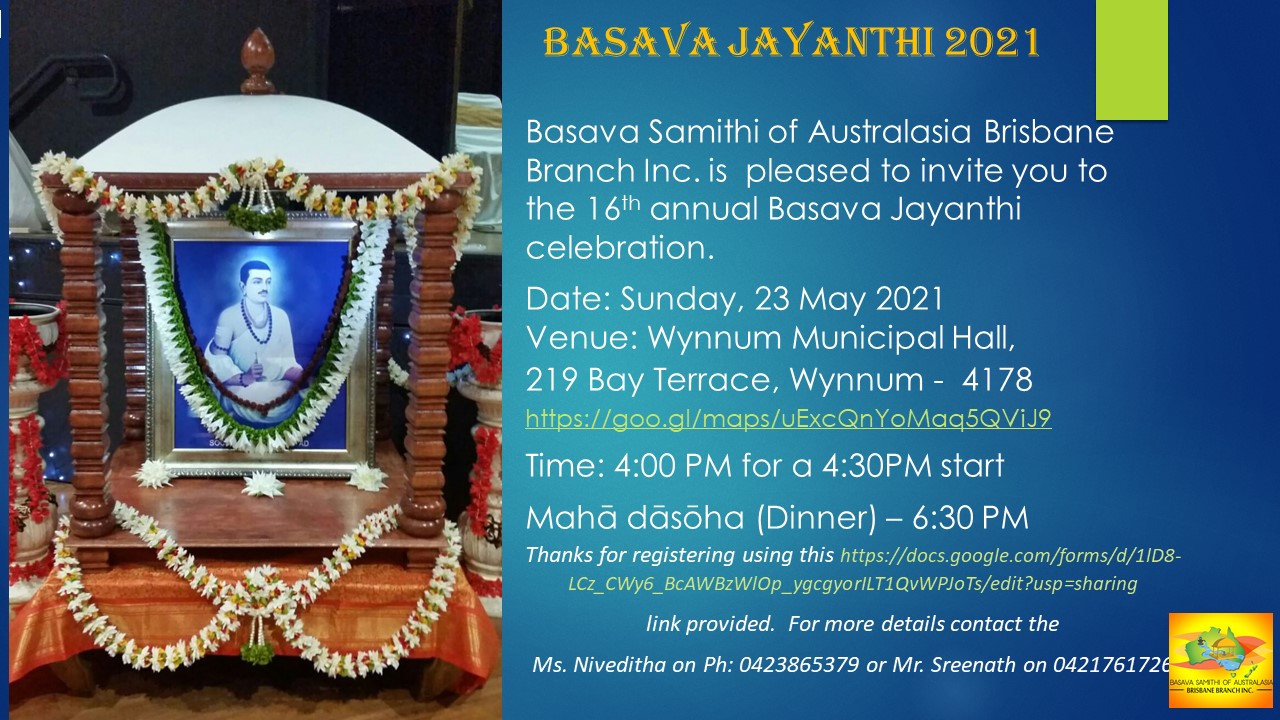 Organiser
Name: BASAVA SAMITHI Brisbane
Contact: Ms.Niveditha - 0423865379 or Mr Sreenath - 0421761726
Basava Samithi of Australasia Brisbane Branch would like to invite you to attend the 16th Annual Flagship event, the birthday celebration of "Basava", a revolutionary social reformer, philosopher and first promoter of democracy (1174 AD). His philosophies have stood the test of time for nearly a 1000 years. They are also scientific, logical and suitable to current, and fast-paced lifestyles. This is a FREE event. Indian vegetarian food will be served as a feast towards the end of the program.
This is a non-religious and non-political association.  
Date: Sunday, 23 May 2021
Time:4:00 PM for a 4:30 PM start
Venue: Wynnum Municipal Hall
219, Bay Terrace, Wynnum
Mahadasoha - 6:30 PM
Our Vision: To build righteousness and beauty in the character of individuals for bringing communal harmony, by incorporating and inculcating the philosophy of Basava as a way of life. Thereby strengthening compassion, and wellbeing in the general public and the ecosystem.
Registration: 
https://docs.google.com/forms/​d/1lD8-LCz_CWy6_BcAWBzWlOp_​ygcgyorILT1QvWPJoTs/edit?usp=​sharing 
ಶರಣು ಶರಣಾರ್ಥಿ
Kind Regards,
\ BasavaSamithi of Australasia Brisbane Branch Inc.