BASAVA JAYANTHI 2023
4 June 2023 06:00 am
219 bay Terrace,Wynumm QLD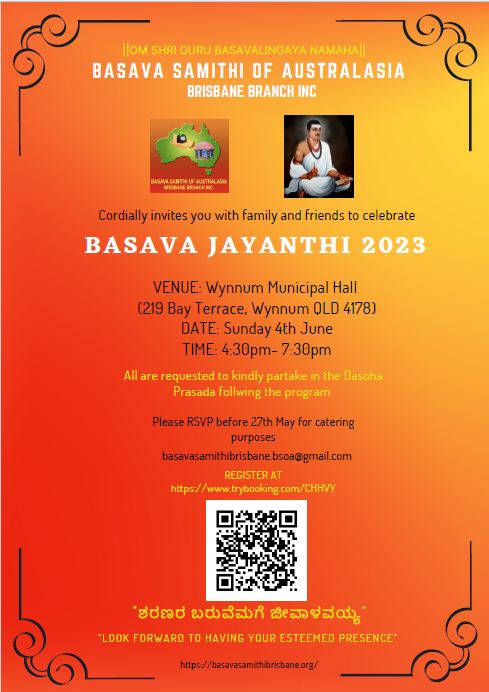 Sharanu All,
Every year Basava Samithi of Australasia Brisbane Branch Inc celebrates the birthday of Guru Basava. We are celebrating Basava Jayanthi on Sunday  4 JUNE , 2023. Celebrations include cultural events, speeches by scholars and invited guests, dance and music followed by Dasoha (traditional sharing of vegetarian food). This is a free event for all.
Please find the attached invitation.
Hope to see you all there.
CULTURAL PROGRAMS
We are seeking Expression Of Interest from the wider community to perform in the cultural activities. Vachana Gayana,Vachanabhinaya,​Bharatanatya,Short Skits and spiritual performances are encouraged.
Please send your details to Mrs.Hema Tumkur via below email
basavasamithibrisbane.bsoa@​gmail.com
Thank you and look forward to seeing you all.
Please register via the link below
https://www.trybooking.com/​CHHVY
Kind Regards
Sharanu Sharanarthi
Basava Samithi of Australasia Brisbane Branch